Nigerian start-up carrier Green Africa Airways has received its first aircraft, an ATR 72-600, at its base in the city of Lagos.
Green Africa is taking three ATRs through an agreement with ACIA Aero Leasing, which is part of Mauritius-based ACIA Aero Capital and has leasing offices in several countries including Ireland and France.
The initial turboprop (5N-GAE) was originally delivered to Brazilian carrier Azul in 2012 and subsequently operated by Air Tahiti.
It arrived at Lagos Murtala Muhammed airport on 23 April bearing the temporary South African registration ZS-XZD.
Green Africa says a second former Azul aircraft (5N-GAA) and a third ATR, to be registered 5N-GAD, have also undergone painting and that the Nigerian carrier is on the "final lap" of the air operator's certificate process. This will include demonstration flights on the network.
Chief executive Babawande Afolabi, the airline's founder, says ACIA has been a "very supportive partner".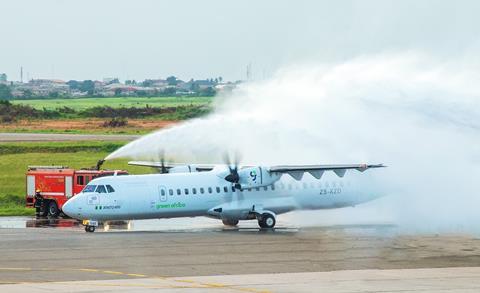 "Arrival of our first aircraft is a precursor to the completion of our AOC process," he says. "Very soon, customers from across Nigeria will be able to make bookings on our website and take their first flight with Green Africa."
Green Africa has been looking to build a jet fleet, unveiling a preliminary commitment for 50 Airbus A220s last year following an earlier tentative agreement for up to 100 Boeing 737 Max 8s.
It appeared to underpin its A220 ambitions last year with a deal to lease three A220s from the Irish-based leasing firm GTLK Europe, which took delivery of a fleet of six A220-300s in 2019.
Green Africa has yet to confirm the status of the A220 agreements.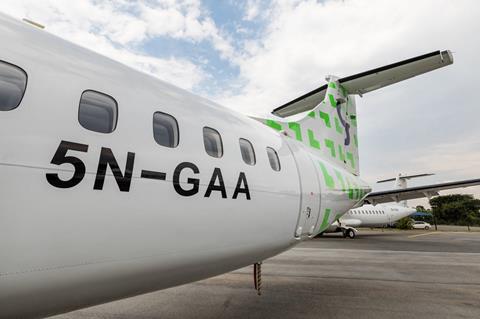 Its initial ATR 72-600 was received in a ceremony which included several senior figures from the airline as well as its institutional investor Kuramo Capital.
ACIA Aero Leasing chief Mick Mooney says the air transport industry has been undergoing "significant disruption" but adds: "There are a few carriers with a strategic roadmap, such as Green Africa, that are looking to provide effective solutions that the current market opportunity brings."