Nigerian carrier Ibom Air has become the latest African operator to introduce the Airbus A220 to its fleet, with a pair of the twinjets leased from EgyptAir.
Both aircraft – registered SU-GFA and SU-GFD – were delivered to the Egyptian flag-carrier in 2019.
But they were presented in Ibom Air colours at a mid-June ceremony held in Uyo, the state capital of Akwa Ibom province.
Ibom Air is a relatively new operator, emerging in 2019 and starting flights with Bombardier CRJ900s.
It has since increased the fleet with two more CRJ900s but is stepping up to larger jets with the A220-300s.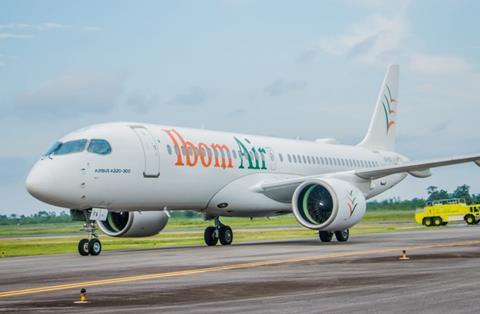 "We're building a critical mass. Because in the airline business you need a critical mass," said chairman Imo-Abasi Jacob, addressing dignitaries during the ceremony.
"You need to increase your fleet size so that you can make money, you can serve the market as it beckons to you. With these additional two aircraft we promise that critical mass is being built."
Jacob referred to other aviation developments being driven by the local government, including the international wing of Uyo airport which, he says, will provide connections to regional and international destinations.
"We will not rest until Ibom Air becomes the pride of the global aviation industry," he adds. "We are poised to be a world-class airline, especially with the aviation assets [this] government has created round about here."
Ibom Air serves destinations including Lagos, Abuja and Port Harcourt as well as the smaller cities of Calabar and Enugu.
As well as EgyptAir the A220 has been used on the African continent by Air Tanzania, while Air Austral and Air Senegal have also intended to introduce the type.