Nigerian carrier Ibom Air is introducing a pair of Airbus A320s as bridging capacity while the airline awaits A220 deliveries.
Ibom Air is wet-leasing the aircraft on a one-year term from operator GetJet.
The Nigerian airline plans to take 10 A220-300s under an agreement reached at last year's Dubai air show.
Deliveries of the twinjets are scheduled to commence in the second half of 2023.
The A320 wet-lease is a "stop-gap measure" to meet demand, according to Ibom Air chief operating officer George Uriesi.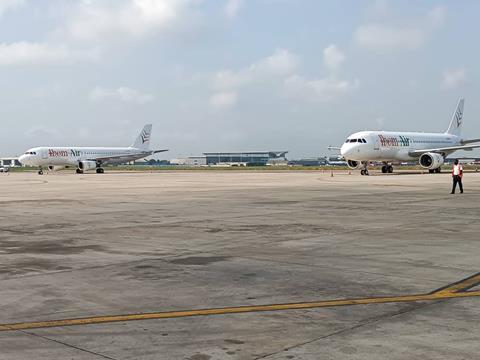 "With this new capacity coming on board we are delighted to inform our passengers that we have increased our offerings, providing more frequencies for their convenience," he adds.
Ibom Air will operate seven daily services between Lagos and Abuja, and three daily from both cities to Uyo, in the south of the country, from 23 November.
Its fleet also includes five Bombardier CRJ900 regional jets.