The Stock Exchange of Thailand (SET) has given Nok Air one month to set a timeline to implement its rehabilitation plan.
Nok is currently in the process of resolving several creditors' objections to its rehabilitation plan before a 15 September court hearing in Thailand's Central Bankruptcy Court to obtain the final approval to implement the plan.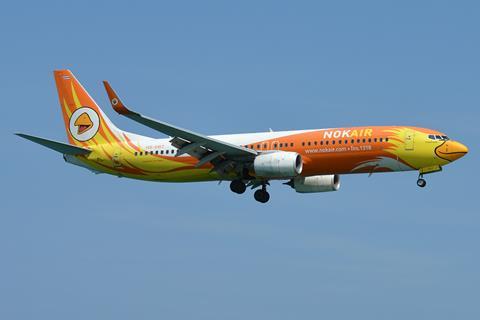 In a filing today, the SET has given Nok until 8 October to set its timeline and inform shareholders and investors.
SET warned that Nok is subject to possible delisting according to the exchange's rules, as its financial statements for 2020 show its equity is negative, in the amount of Bt7 billion ($214 million).
Nok will be given three years to improve its financials from 9 September, with milestones every year.
SET states: "When the deadline is over, if the company is still unable to eliminate the ground for delisting, SET will propose to the SET's board of governors to consider delisting the company's securities."
In August, the SET warned Nok of a possible delisting, should it fail to submit its financial statements by 1 September. Nok had missed the initial March deadline and trading of its securities has been suspended since 2 July.