Embattled low-cost carrier Nok Air plunged deeper into the red for the 2020 calendar year, as revenue evaporated amid a collapse in passenger travel demand during the coronavirus pandemic.
The carrier, which is currently undergoing a court-led business rehabilitation process, was also found to have liabilities exceeding assets by Bt16.2 billion ($501 million), and a capital deficiency to the tune of just over Bt8 billion.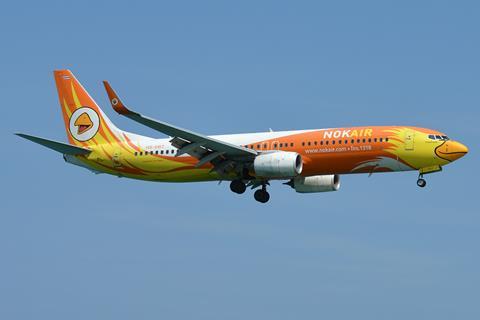 The dire financial state of the airline prompted auditors to withhold their opinion on the carrier's full-year financial results, which had been delayed for over six months.
Citing other reasons such as the carrier's restructuring process and the coronavirus pandemic, auditors from Deloitte Touche Tohmatsu Jaiyos Audit say that they had "not been able to obtain sufficient appropriate audit evidence to provide a basis for an audit opinion".
Nok posted a Bt7.4 billion operating loss for the year ended 31 December 2020, widening the Bt3.1 billion full-year loss it reported in 2019.
Revenue for the period nosedived more than 66% year on year to Bt6.7 billion, as flying activity reduced amid travel restrictions both within and out of Thailand. Passenger revenue for the year fell 65% to Bt5.8 billion, with ancillary and service revenue also on the decline.
Nok flew 4.2 million passengers in 2020, less than half the number flown in 2019. Traffic, measured in RPKs, declined 53%, while capacity fell 42% year on year.
The carrier notes that traffic picked up at the last quarter of 2020, but that yields were weakened given an increase in competition among domestic carriers.
Expenses for the year fell nearly 30% to Bt16.2 billion, as the airline took on hefty impairment and credit loss costs, offsetting a decline in operational costs.
It ended the year with 22 aircraft, two Boeing 737-800s fewer than in 2019.
The carrier in July 2020 filed for business rehabilitation, as it acutely felt the impact of the coronavirus. It submitted its rehabilitation plan on 17 May 2021, followed by an amendment petition on 30 July.
Several objection petitions had subsequently filed, and the Thai court on 26 August allowed a hearing in September to reconsider the plan, allowing the carrier time to resolve the objections.