Long-haul start-up Norse Atlantic Airways generated first-half operating revenues of $3 million following the commencement of commercial services in mid-June.
The carrier inaugurated flights with a transatlantic connection from Oslo to New York.
It is aiming to build a fleet of 15 Boeing 787s. Eleven were introduced in the first half, and another pair subsequently, with the remaining two arriving by the end of the year.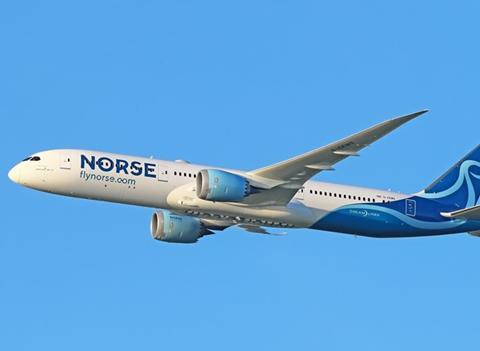 Norse has agreed to sub-lease four aircraft for 18 months each, and expects revenues from this activity to exceed $40 million over the term.
The airline, having only begun flights at the end of the first half, made an interim operating loss of $43 million and net loss of $51 million over the six months to 30 June.
Norse says it has achieved an average load factor of 75% on its flights.
But it cautions that high inflation in Europe and the USA, combined with high fuel prices and a reduction in the post-pandemic travel surge, are likely to result in a "challenging" period over the next few months.
"Norse will be cautious with regards to its winter 2022 programme and is continuously evaluating all routes," it says. "The company is well-positioned to take a careful approach to activating more aircraft as it continues to enjoy the benefits of flexible aircraft lease terms, including power-by-the-hour and low lease rates."