Norse Atlantic Airways has raised NKr300 million ($30 million) through a private placement aimed to generate funds required for its UK operation.
The airline, having completed the placement, is turning its attention to a subsequent offering to other shareholders, intended to generate further proceeds – as well as "limit the dilutive effect" of the private offer.
Norse Atlantic states that the net proceeds are intended to maintain a "cash buffer" following a requirement from UK authorities to invest $46 million for sole use by the carrier's UK subsidiary.
This will enable the airline to increase services from London Gatwick to US destinations.
"By structuring the equity raise as a private placement, the company is able to raise capital quickly and in an efficient manner," it states.
Norse says the private placement, the application period for which closed on 25 November, has been directed at "selected" Norwegian and international investors.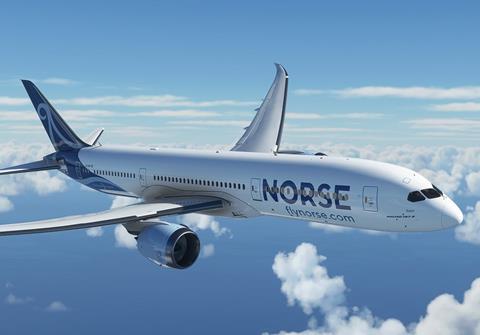 Chief executive Bjorn Tore Larsen says the placement was one-and-a-half times oversubscribed, indicating "strong confidence" in the business model of the carrier which operates a fleet of Boeing 787s.
"This successful equity raise will allow Norse Atlantic to build on its already strong financial base," says Larsen.
"We were already in a much stronger position strategically and financially than many other airlines and we now look forward to growing from strength to strength."
The private placement comprised 120 million new shares while the subsequent offer – aimed at investors that could not participate in the private issue – will cover up to 60 million shares at the same price.
Completion of this subsequent offering is subject to a number of conditions including board approval and clearance to proceed at an extraordinary general meeting due to be held on 9 December.
Norse Atlantic adds that this offering also depends on the trading price of the shares remaining above the offer price, and that the company reserves the right to cancel it.
It has yet to disclose the shareholder structure of the airline following the new share issues. The airline's largest investor, BT Larsen, had 12.8% of the company beforehand and had committed heavily to the private placement.
But Norse had previously said that BT Larsen's allocation could be scaled back in order to "improve the overall free float".