Scandinavian start-up Norse Atlantic Airways has commenced ticket sales for transatlantic services, with the initial flight from Oslo to New York JFK set to take place on 14 June.
Norse Atlantic will also open flights to Los Angeles, Orlando and Fort Lauderdale.
It says the beginning of ticket sales "marks a milestone" for the carrier, which will operate a fleet of Boeing 787s.
Norse Atlantic is offering one-way fares from $129, aiming to explore demand for budget long-haul travel.
"[Our airline] offers the lowest one-way point-to-point transatlantic fares in the market," claims chief executive Bjorn Tore Larsen.
"Whether travelling on business, leisure or simply wishing to explore the world, Norse now makes it possible for everyone to explore for less."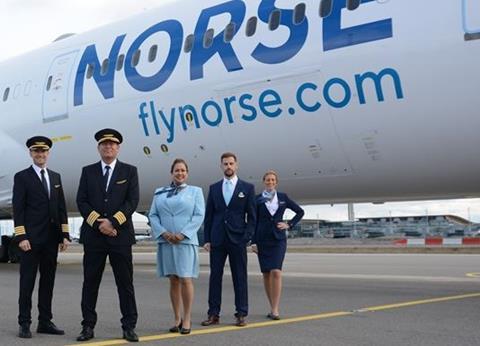 Frequency of the New York service will increase over the space of a few weeks, to a daily rotation from 4 July.
The Fort Lauderdale, Orlando and Los Angeles routes will respectively open on 18 June, 5 July and 9 August, all operating thrice-weekly. Norse is offering Los Angeles fares from NKr1,797 ($194).
Norse's 787s are configured with premium-economy and economy cabins and the carrier has a three-tier fare structure, designated 'Light', 'Classic' and 'Plus'.
It aims to expand shortly with transatlantic services from London and Paris, and intends to operate routes to additional US destinations.
"Not only are we directly investing in the countries that we operate by employing local staff we are also supporting job creation across the wider tourism and service industry," says Larsen.