Start-up long-haul operator Norse Atlantic Airways is seeking formal authorisation to operate transatlantic services to New York, Fort Lauderdale and Los Angeles in summer 2022.
The carrier aims to conduct the flights from Oslo under the US-European 'open skies' agreement, and says it expects to receive an air operator's certificate from Norwegian regulators in early November.
Norse Atlantic will commence initial services with three Boeing 787s in a two-class configuration, it states in a filing to the US Department of Transportation.
The airline plans to operate to New York's Stewart airport and serve Los Angeles through California's Ontario airport.
"[We] will expand over time to other points in Europe to meet developing passenger demand and route expansion," it says.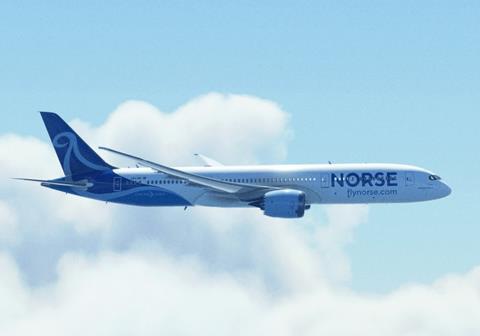 Norse Atlantic, which has established US and UK subsidiaries, adds that it plans to tie up with local US businesses and "create new, good-paying jobs for Americans".
The company has already entered pre-hire agreements for US flight attendants, and has supplemented its crewing arrangements recently with an agreement on terms for UK pilots with the cockpit union BALPA.
Its newly-released interim financial statement says the carrier will serve Paris and London, and that it is seeking a UK air operator's certificate.
Norse Atlantic has reached fleet deals with lessors AerCap and BOC Aviation, covering acquisition of 15 787s, a mix of the -8 and -9 variants, and chief executive Bjorn Tore Larsen says the company has raised $171.5 million in equity since being established.
"We are on track for take-off in late first quarter or early second quarter next year," he says, adding that the creation of the airline has been "very well received".
The carrier will take its first aircraft in December and expects all 15 by the end of March 2022.
Norse Atlantic's cash position stood at just over $150 million at the end of June.
It has yet to recognise any flight revenues, but recorded a technical $700,000 net profit after operating costs of $1.8 million, over the period from 1 February to 30 June 2021, were offset by finance income of $2.5 million.