Start-up Norse Atlantic Airways claims it received over 3,000 applications to fill 50 positions for pilots, ahead of the airline's planned serve launch from Oslo.
The carrier says pilot training has commenced and training for cabin crew will begin soon, and it is setting up a US cabin crew base in Fort Lauderdale – with other bases to follow as the airline's expansion progresses.
Norse Atlantic intends to open ticket sales for its transatlantic operation by the end of March, and start services in the second quarter.
"Future customers and supporters on both sides of the Atlantic are reaching out to us every day asking about when they can start buying tickets, when we will be airborne and, not least, what routes we will be offering," says chief executive Bjorn Tore Larsen.
"We are working on finalising our route network and look forward to announcing our destinations when we open for sale."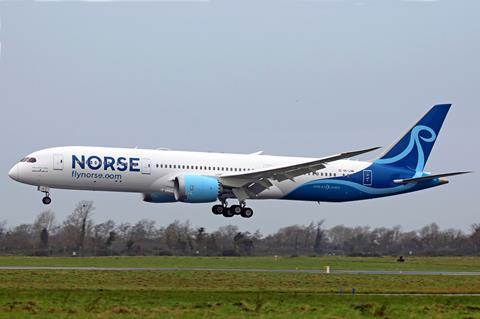 Norse Atlantic, which has secured a Norwegian air operator's certificate and US operating authority, will operate Boeing 787s on its transatlantic connections.
Four of the twinjets are parked at Oslo and another 11 are due to be delivered to the carrier over the next few months.
"Our people will be our competitive advantage," says Larsen, adding that the airline has signed collective agreements with cockpit and cabin crew representatives in Norway, the UK and USA.
"We are building a high-performance culture and creating an environment where we value diversity, ensuring that all colleagues feel a sense of belonging."