Start-up long-haul carrier Norse Atlantic Airways has opened bookings for services between the UK and USA, with a London-New York link set to commence on 12 August.
Norse Atlantic will operate between Gatwick to JFK daily using Boeing 787s.
It will also be offering a temporary service between Gatwick and Oslo, also with the twinjet type, enabling customers to access Norse Atlantic's new transatlantic flights from the Norwegian capital.
Norse Atlantic is opening connections from Oslo to Fort Lauderdale, Orlando and Los Angeles from mid-June.
"Customers now have an affordable option allowing them to book a last-minute trip – or a holiday of a lifetime – with an airline that offers choice and flexibility," says chief executive Bjorn Tore Larsen.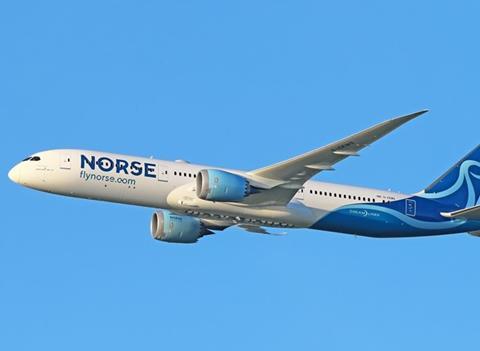 The carrier's 787s are configured in two classes, with a 43in seat pitch in the premium cabin.
"It's always great to see a new tail on the airfield," says Gatwick chief Stewart Wingate. "But the arrival of a new airline following the turbulent past two years for the industry, and one that will be offering fantastic long-haul routes across the Atlantic, is particularly exciting news."