Long-haul low-cost operator Norse Atlantic Airways has tied up with three other budget carriers to extend its network through connecting services.
Norse Atlantic is linking with EasyJet and Norwegian in Europe, as well as Spirit Airlines in the USA, to broaden its reach either side of its transatlantic operations.
It describes the arrangement as a "virtual interline agreement" whereby online flight search engine Dohop provides over 600 weekly connections at Norse's main stations.
The agreement enables EasyJet and Norwegian passengers to access European services connecting to Norse flights at London Gatwick, Berlin and Oslo.
For the US network similar connections with Spirit Airlines flights will be made through Norse's operations to Los Angeles, Orlando and Fort Lauderdale.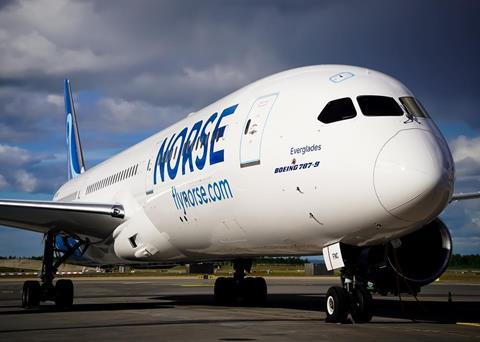 Although the connections would offer "ample time" for transfer, Norse says that passengers would need to pass through customs and re-check their baggage before boarding a connecting service.
Chief executive Bjorn Tore Larsen believes the tie-ups will "further boost transatlantic travel", adding that Norse is in discussions with other airline partners to expand its connections via the booking platform.