Entrepreneurs have revealed 'Flyr' as the brand name for the new Norwegian airline which aims to commence services in the first half of 2021.
The airline is being established by a team including industry specialist Erik Braathen as well as pilots from a number of Scandinavian carriers.
Flyr is intended to operate in the Norwegian market as demand begins to recovery from the air transport crisis.
"Norway is an elongated country with fjords and mountains which means that we need to fly in the years ahead – but probably a little less than we have done before," it states.
"We're building an airline from scratch, based on many years of experience, with a size, organisation and business model that is adapted to this future."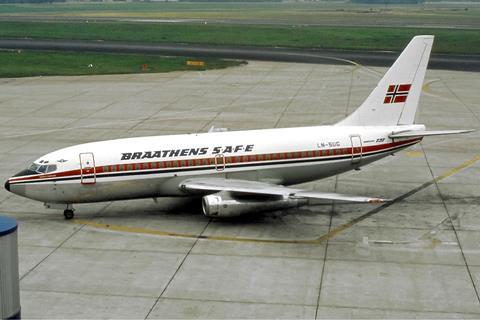 The carrier – which currently employs around 30 people – will enter a market already served by SAS, budget carrier Norwegian and regional operator Wideroe, while low-cost carrier Wizz Air is also venturing into the country's domestic sector.
It says it plans to "deliver the simplest flight, in the most sustainable way possible", stating that its model will not depend on encouraging more passengers to fly more often.
"We are building the company from the ground up, free from complex systems and cumbersome organisations, in order to run an efficient and customer-friendly aircraft operation," it adds.
"The name reflects the simplicity of the company and the product we are in the process of building."
Flyr has previously indicated that it would initially operate a small fleet of Airbus A320 or Boeing 737 jets, on domestic and European routes.