Norwegian views its plan to base two aircraft at Riga International airport from summer 2023 as a "kind of a test" regarding the viability of expanding beyond its current markets.
Network opportunities will open up, chief executive Geir Karlsen explained during an earnings briefing on 26 October, as the Scandinavian low-cost carrier adds more Boeing 737 Max jets to its currently 737-800-dominated fleet in the coming years.
He therefore describes the Latvian base – reports of which first emerged in late August – as a "small step we are doing at Norwegian to move out of the Nordics again".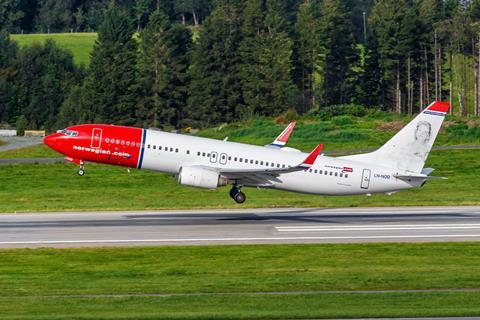 Framing the move as low-risk, Karlsen stresses that Norwegian sees Latvia and its neighbouring countries as "an extended part of the Nordics", and notes that the airline already has "a large office" in Riga.
"We will give it a try," he says. "It's small scale, at least for now."
It will complement the restructured airline's bases in Scandinavia and Spain, including Oslo, Bergen, Stavanger, Trondheim, Copenhagen, Stockholm, Helsinki, Malaga and Alicante. It also plans to reinstate a seasonal base at Barcelona El Prat airport from summer 2023.
Norwegian is eyeing network expansion opportunities as it adds more leased 737 Max jets over the coming two years, before it begins to take examples from a 50-aircraft order placed with the airframer in June.
From the 69 aircraft Norwegian has in service today, Karlsen expects it to have 82 in service at the end of 2023, having taken delivery of 15 more leased Max jets and returned some older 737-800s to lessors.
It then intends to lease a further 11 Max jets in 2024, as Norwegian's fleet size moves towards the 90-95 level that Karlsen believes will bring advantageous economies of scale to the business.
Fleet growth is expected to moderate once the on-order Max aircraft begin to arrive in 2025, with many of Norwegian's 737-800s being returned to lessors as deliveries continue through to 2030.
Amid those expansion plans, Karlsen is clear that opportunities to add more aircraft into Norway itself will be limited.
"If you look at the Norwegian market, let's say you have 70-plus aircraft placed in Norway today, plus Flyr with 10-11… I think that is overcapacity," he says. "That is too many aircraft."
Pre-restructuring, Norwegian had bases across Europe, as it rapidly expanded beyond its core operation and short-haul focus. It previously mooted the idea of a Riga base in 2017.
Today, the Latvian capital is home to local carrier and all-Airbus A220 operator Air Baltic, while European low-cost giant Ryanair opened a two-aircraft base in Riga towards the end of 2021.