Indian low-cost carrier IndiGo lost Rs61.6 billion ($795 million) for the year ending 31 March 2022 after a wave of Omicron-variant Covid-19 infections hit its fiscal fourth-quarter performance.
That wave pushed IndiGo to an Rs16.8 million loss in its fourth quarter – the three months ending 31 March – or Rs10.7 million when accounting for foreign currency losses. That compares to Indigo's Rs11.5 million loss in its fiscal fourth quarter last year.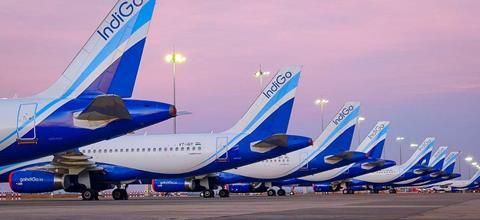 IndiGo chief executive Ronojoy Dutta says: "This quarter has been difficult because of the demand destruction caused by the Omicron virus in the first half. Although traffic rebounded and demand was robust during the latter half of the quarter, we were challenged by high fuel costs and a weakening rupee."
Indigo's fiscal-year loss of Rs61.6 billion compares to a loss of Rs58 billion in its previous financial year.
The carrier did, however, report an 84% improvement in its full-year EBITDAR (earnings before interest, taxes, depreciation, amortisation and aircraft and engine rental expenses), to Rs11.5 billion.
IndiGo revenue for the year climbed 70% to Rs267 million on increased passenger activity. The airline's passenger traffic jumped 64% compared with the previous year, while load factor rose four points to 73.6%.
"We believe IndiGo is best positioned to maximise revenue in a recovering market. As we work to return the airline to profitability, we are focused on maintaining our cost leadership position and continuing to build the most-efficient network in the region," says Dutta.
Dutta is due to step down as CEO, and to be replaced by KLM's departing chief Pieter Elbers, from the start of October.
IndiGo, India's biggest carrier, had a fleet of 275 aircraft as of 31 March – 10 fewer than at the same point in 2021. But the mix of that fleet has changed significantly; new Airbus A320/A321neos now account for 199 aircraft and Indigo has cut its fleet of older A320s from 100 to 41. IndiGo also operates 35 ATR 72 turboprops.