PAL Holdings was in the black in its third-quarter earnings, retaining its profitable streak amid a three-fold jump in passenger revenue.
For the three months to 30 September, the parent company of Philippine Airlines posted a pre-tax profit of Ps4.3 billion ($103 million), reversing the Ps5 billion loss in the year-ago period.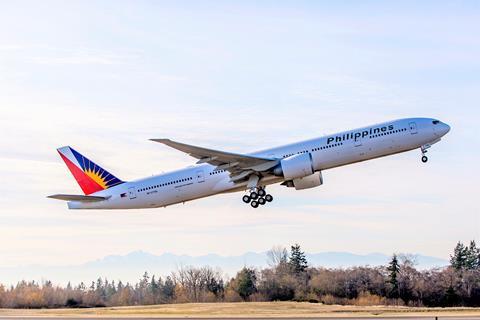 Third-quarter revenue more than doubled year on year to Ps40.4 billion, led by a three-fold jump in passenger travel revenue as border restrictions relaxed. Still, the group saw a slight dip in cargo revenue, down about 13% year on year.
Costs also doubled year on year to Ps35.2 billion, with operations-based expenses – which include fuel costs – seeing the largest increase.
On a nine-month basis, PAL Holdings posted a pre-tax profit of Ps8.7 billion, with revenue up two-fold year on year to nearly Ps98 billion.
The company had Ps26.4 billion in cash and cash equivalents as at 30 September, slightly higher than the Ps24 billion at the start of the year.
PAL president and operating chief Stanley Ng says: "We are thankful for the strong support of our customers, shareholders, partners and personnel that enabled us to achieve this third straight quarter of positive operating results, despite the continuing global economic and geopolitical challenges."
By end-September, PAL had a fleet of 80 aircraft, down from a fleet of 87 aircraft at the start of the year.