Freight activity catalysed by the pandemic helped UK-based CargoLogicAir last year to improve on a weak performance in 2019, the company has disclosed.
The carrier – linked to Russia's Volga-Dnepr Group – ran into problems in 2020 and sought a temporary suspension of its operating licence, which was subsequently restored in April.
CargoLogicAir had already reduced its fleet from four Boeing 747 freighters to two – a -400F and -400ERF, both powered by General Electric CF6 engines.
"This helped the company to right-size its business and to focus on building a more differentiated product," it says, but adds that it will "revisit" its fleet size to ensure any upsurge can be accommodated.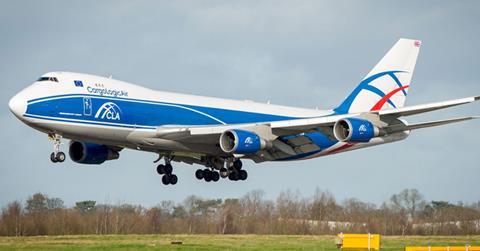 CargoLogicAir has experienced a rise in demand for vital cargo transportation as a result of the pandemic, it says, which has resulted in an increase in revenue and profit for the year to 31 December 2020.
"This resulted in an improvement in the company's cash balances and financial position compared with the [previous year]," it states, without elaborating.
CargoLogicAir has disclosed that, for the full year 2019, it made an operating loss of $39.2 million, a substantial deterioration from the $17.8 million loss in 2018.
The company says its cargo revenues in 2019 fell by 27%, attributing this to a shift away from scheduled services to wet-lease.
It points out that 2017 and 2018 had been strong years for air cargo but the industry in 2019 was "volatile".
Strong passenger capacity growth – which led to greater belly-freight capacity – along with the availability of "more economical alternative modes of transport" have continued to put pressure on the supply-demand balance, it says.
CargoLogicAir says it has "mitigated" risks from the UK's withdrawal from the European Union by reconfiguring its flight programme. It has introduced UK sectors to address the loss of fifth-freedom services from the EU.