Scandinavian carrier Braathens Regional Airlines has received an ATR 72-600 which, it claims, is the first commercial aircraft to be financed under an environmental initiative known as the 'green loan' principle.
Green loans are defined by the Loan Market Association as instruments made available exclusively to finance eligible green projects, which need to meet certain core criteria including utilisation of the loan proceeds to meet environmental sustainability objectives.
The aircraft is being leased from Singapore-based Avation and financed by Deutsche Bank, one of five being purchased by the lessor and leased to BRA.
Completion of the order is scheduled for early 2020, at which point the carrier will have 15 ATR 72-600s to replace BAE Systems Avro RJs.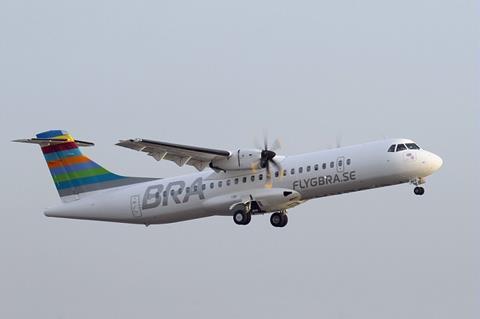 "This first ever 'green financing' of an aircraft confirms the high sustainable value of the modern ATR turboprop," says the airframer.
Braathens chief executive Geir Stormorken says the airline is committed to reducing its environmental impact.
"With that as a goal, it simply makes sense to choose the most efficient aircraft," he says, claiming that the jet replacement will cut 7,500t of carbon dioxide annually per aircraft.
BRA is based at Stockholm, the capital of Sweden where the social term 'flygskam' has arisen to describe the 'shame' of travelling by air owing to its effects on the environment.
"We're hopeful that this leads the way for more sustainable financing activity in aviation, and increased adoption of lower carbon emission aircraft across the industry, to help make flying more eco-responsible," says Deutsche Bank's head of global transportation finance in Asia, Richard Finlayson.