Russian budget carrier Pobeda is to open services from a second Moscow base, operating from the capital's Sheremetyevo airport.
Pobeda is part of Aeroflot Group alongside Aeroflot and Rossiya. Moscow Sheremetyevo is Aeroflot's main base.
The expansion will involve Pobeda's opening services to 12 cities in Russia, as well as the Turkish resort of Antalya.
Aeroflot Group has embarked on a strategic development plan which involves restructuring the route network and will take into account routes where demand for low-cost flights is greatest.
Pobeda's entry to Sheremetyevo is part of this re-organisation. The airline has been operating from Moscow Vnukovo and had previously considered branching into Moscow Domodedovo, owing to a lack of available capacity at Sheremetyevo.
"Development of two Moscow airports at once…will become another indisputable advantage of Pobeda," says the budget airline's general director, Andrei Kalmykov.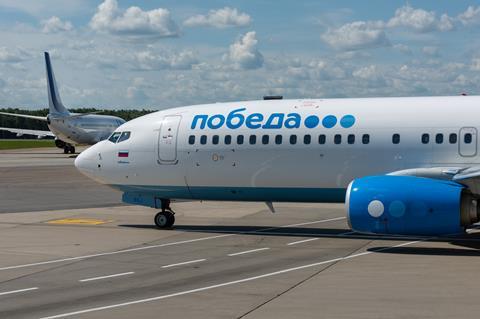 Aeroflot Group is intending to shift much of its short- and medium-haul operation to Rossiya and Pobeda, using the mainline Aeroflot fleet for long-haul services.
This includes transferring Boeing 737-800s from Aeroflot to Pobeda, and similarly moving Aeroflot Sukhoi Superjet 100s to Rossiya.
Pobeda says it will start operating from Sheremetyevo in May, with flights to Perm and Cheboksary, with flights to Ekaterinburg, Sochi, Ufa, Petrozavodsk, Nalchik, Gorno-Altaysk and Antalya starting in June.
It says the other four Russian destinations – Ulyanovsk, Mineralnye Vody, Barnaul and Vladikavkaz – will be served from July.