Liquidators of Thomas Cook Group have warned that most of the company's divisions are unlikely to return a dividend to creditors following its collapse in September.
The official receiver says that the group collapsed with around £9 billion ($11.6 billion) in total liabilities.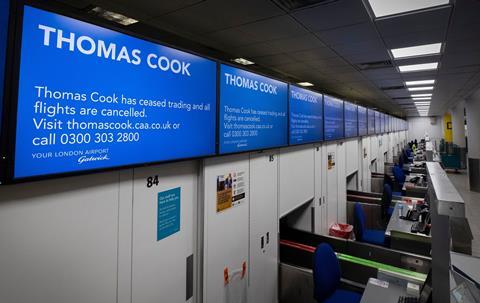 These included £5.7 billion in debts to other group companies and a further £1.77 billion to banks and other lenders.
Trade creditors are owed £885 million and £585 million is due to customers who booked package-holidays and flights, although this figure does not include a claim from the Civil Aviation Authority which has yet to be fully quantified.
But the receiver estimates total asset realisations at just £176-244 million – a figure which excludes the cost of the realisation, it states.
Sale of retail outlets, landing slots at airports, intellectual property rights and other assets have already been achieved.
But sales of other parts of the companies – including aircraft and engineering stock – have yet to be finalised
The receiver warns that, although certain assets have been realised, some companies did not have assets and creditors of these firms "will not benefit from these realisations".
Twenty-six companies were wound up in the Thomas Cook Group liquidation on 23 September, and 19 of these are listed as having "unlikely" prospects for a dividend, it states.
Among the companies from which a "possible" dividend might emerge are Thomas Cook Airlines, Thomas Cook Retail, and Thomas Cook Group Tour Operations.
Another 27 UK companies in the group were subsequently wound up on 8 November, and the official receiver says it will report separately on these in due course.