Canada's Porter Airlines has added more lessors to its fleet-sourcing for Embraer 195-E2 twinjets, with sale-and-leaseback agreements for a dozen aircraft equally split between TrueNoord and funds linked to Apollo and Merx Aviation.
The arrangement means the carrier has secured lease agreements with five lessors covering 26 E195-E2s.
Porter ordered 30 of the type last year and, earlier this year, increased its commitment to 50.
TrueNoord says that, as part of the original 30-jet deal, it will be delivering six aircraft to the airline in 2023.
"This transaction demonstrates our desire to develop the business in a measured way, building long-term relationships with high-quality operators," says chief executive Anne-Bart Tieleman.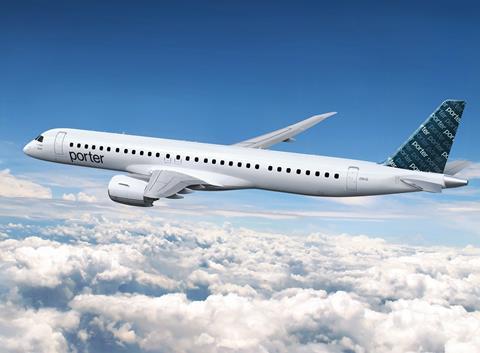 Toronto-based Porter will operate the aircraft on routes within Canada and to destinations in the USA.
Chief financial officer Jeffrey Brown says the expansion requires support from "dedicated partners" and that TrueNoord "fits this mould", both financially and through "understanding our vision".
TrueNoord's sales director for the Americas, Garry Topp, says the airline is combining "experience with great enthusiasm" to build a business model around the E2.
"This aircraft has the potential to be disruptive to the market and Porter understand the opportunity this creates," he says.
Alongside its 50 firm orders for the E195-E2, Porter has purchase rights on another 50.