Middle Eastern budget carrier Air Arabia's new Armenian operator Fly Arna commenced operations in July.
The Yerevan-based operation obtained its air operator's certificate in June and subsequently opened services to the Egyptian resorts of Hurghada and Sharm el-Sheikh.
Air Arabia also states that it has reached an "advanced stage" of preparations for another start-up venture, Fly Jinnah, in Pakistan.
The airline disclosed the progress with the new divisions as it unveiled a strong financial first half, including an operating profit of Dhs442 million ($120 million) and a net profit of Dhs451 million for the six months ending 30 June.
Air Arabia lists one aircraft operating from Armenia from among its fleet of 58 Airbus A320s and six A321LRs – a fleet which expanded over the first half by six jets.
It includes 50 Airbuses stationed within the United Arab Emirates, plus nine in Morocco and four in Egypt.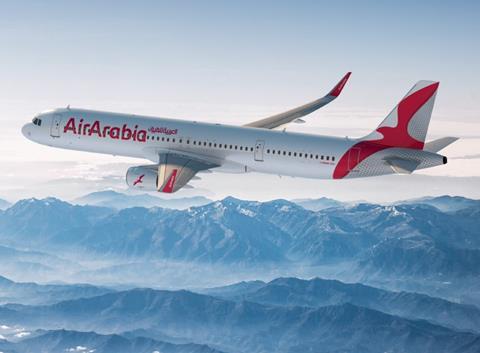 Air Arabia says the recovery in air transport demand was evident with over 5.2 million passengers flying with the carrier over the first half, at an average load factor of 79%.
It turned in a net profit of Dhs160 million for the second quarter. Chairman Sheikh Abdullah bin Mohamed Al-Thani says the "solid" performance is a "testament to the strength of the business model".
"We have continued with our network expansion strategy in the second quarter of this year by increasing the fleet size, adding new routes and new frequencies across all operating hubs – as well as continuing with preparations for the launch of our new ventures in Armenia and Pakistan," he adds.