Middle Eastern carrier Flydubai expanded its fleet to 74 aircraft last year, with Boeing 737 Max variants accounting for more than half.
The airline has turned in a full-year profit of Dhs1.2 billion ($327 million) for 2022, during which it took delivery of 17 more 737 Max 8s – the most aircraft it has received in a single year.
Flydubai expects to match this delivery figure over the course of 2023.
It states that it transported 10.6 million passengers last year and generated revenues of Dhs9.1 billion.
This performance exceeds the pre-crisis level of 2019 during which it carried 9.6 million passengers and achieved revenues of Dhs6 billion.
"Flydubai remained committed to maintaining the highest levels of cost and operational efficiencies while preserving and growing its workforce over the past two years," says chairman Sheikh Ahmed bin Saeed Al Maktoum.
"This meant the carrier was quick to cater to the pent-up demand and support Dubai's accelerated recovery."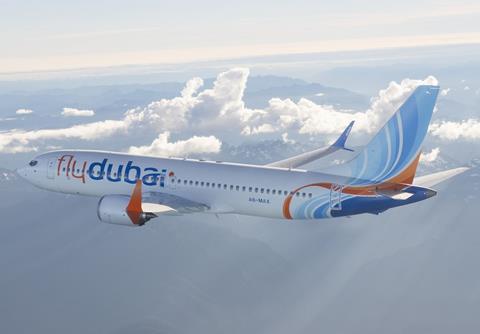 Chief executive Ghaith Al Ghaith says the airline has been able to maintain positive cash-flows and did not require the government aid offered during the crisis.
He says the "significant" fuel efficiency of its 737 Max fleet has contributed to the company's financial performance, given the rise in fuel prices. Fuel accounted for nearly 34% of total operating costs last year.
Flydubai's fleet has expanded to comprise 39 737 Max 8s and three Max 9s, plus 32 737-800s. As well as introducing 17 more Max jets it returned a pair of 737-800s to lessors last year. The airline says it secured financing for 20 Max aircraft through debt and sale-and-leaseback arrangements.
It also lifted capacity with a wet-lease agreement for four aircraft provided by Czech carrier Smartwings.
Al Ghaith says the airline is committed to enhancing its product, and is undertaking a retrofit programme across its 737-800s and introducing new cabins on its 737 Max fleet.
Flydubai's network has broadened to cover 114 routes and says it recorded a rise last year in the proportion of passengers – from 34% to 46% – who connect with its services through its Emirates codeshare.