Qatar Airways Group is optimistic regarding its legal battle with Airbus over skin-paint deterioration affecting A350s, although it cautions in its full-year financial statement that a judgement against the airline could have a material impact.
The airline says it "remains extremely positive" in its assessment of prospects for the case, which will be heard in summer next year, although it says that – as with any legal wrangle – there are "litigation risks".
Qatar Airways expects final judgement on all claims by autumn 2023.
For the year to 31 March 2022 the company turned in an operating profit of QR10.8 billion ($2.96 billion) and a net profit of QR5.6 billion – a figure it describes as a "record", and one which contrasts with the net loss of QR14.8 billion the previous year.
The carrier generated revenues of more than QR52 billion over the 12 months, higher than the pre-crisis level of 2019-20.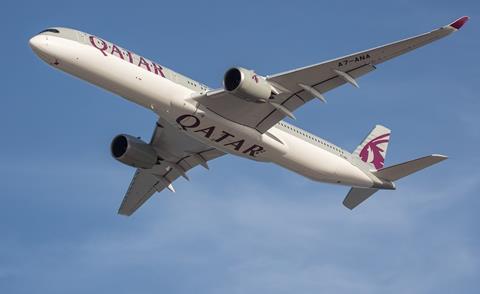 It attributes its earnings margin to "streamlined, agile and fit-for-purpose operations across all business areas" during a year in which it expanded its network to over 140 destinations.
"Qatar Airways Group has demonstrated a robust role in the aviation industry, and these financial results are a clear indication of the group's strong performance," says chairman Saad bin Sharida Al-Kaabi.
Group chief Akbar Al Baker claims the airline "grew significantly" in 2021, becoming the largest long-haul operator by revenue passenger traffic.
"I am extremely proud of the decisions we have made to embrace efficiency and achieve strong cost control across several operational departments whilst engaging in environmental and sustainable initiatives," he adds.
Qatar Airways recognised additional impairment losses for the Airbus A380 fleet during its annual assessment, but a reverse impairment on certain A330s which were returned to operation.