Collapsed UK regional operator Flybe's administrators have been holding talks with parties interested in acquiring the business, with prospects potentially raised by success in retaining the company's operating licence and slots.
Flybe ceased operations in early March this year and is being overseen by four joint administrators.
These administrators state that a sale of the business and certain assets "may be possible" and that "a number of parties" have shown interest in such a transaction – although they point out that a transaction would be "unlikely" to include sale of the company as a legal entity.
"We continue to facilitate due diligence," the administrators add, in a 2 October update. But they are withholding the identities of the parties, and not disclosing the nature of the assets involved, in order "not to prejudice" the negotiations.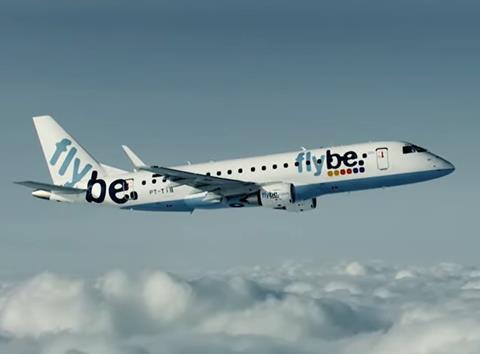 The administrators' efforts to sell the company have received a lift after they won a legal tussle to retain the carrier's operating licence – which is crucial to the airline's retaining its airport slots. Slots are being considered as part of the business transactions under discussion.
Flybe's licence had faced revocation by the UK Civil Aviation Authority and this decision was being appealed.
But as the appeal was progressing, the onset of the pandemic led to amendment of European Union air transport legislation, and this changed the threshold test for assessing revocation of the operating licence.
The administrators successfully argued for a fresh assessment and, on 9 July, the CAA withdrew its revocation decision. In response, the administrators withdrew their appeal, and Flybe was permitted to keep its licence, subject to certain undertakings.
Even with the licence retention, Flybe faces legal wrangle over the slots it held at London Heathrow.
These slots were taken over by IAG, the parent of British Airways, after Flybe ceased operations, but the administrators are "challenging" this action.
Flybe was granted grandfathering rights over the Heathrow slots by the European Commission on 4 August, the administrators state.
"In light of the ongoing dispute with IAG, we are unable to comment further on the company's prospects for realising value from this asset at present," they add.
Uncertainty also surrounds Flybe's air operator's certificate, which is subject to a separate revocation proposal and panel hearing from the CAA, on the grounds that the airline could no longer meet the regulatory requirements to hold the AOC.
"[We] have argued that such a hearing should be delayed whilst there is an opportunity to financially reconstruct the company," the administrators state, adding that no hearing date has been set.