Qantas Group saw losses widen in the first half of its 2022 financial year, with coronavirus continuing to play havoc with both domestic and international markets.
The group's underlying loss before taxes widened to A$1.3 billion ($937 million) in the six months to 31 December 2021, from A$1 billion in the previous corresponding period, it says.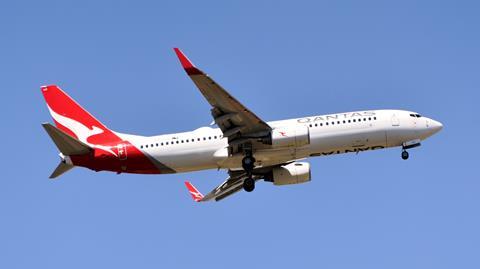 Revenues, however, rose 31.9% to A$3.1 billion. The carrier estimates that since the start of the pandemic it has lost revenues of A$22 billion
"The Group's flying operations were severely impacted by widespread domestic lockdowns and continued international restrictions, reducing the Group's total flying to 18 per cent of pre-COVID levels during the half," says Qantas.
The six-month period was not all bad, with Qantas noting that it was cash flow positive between October and December, mainly owing to forward bookings. Unfortunately, the emergence of the Omicron variant of Covid-19 hurt demand in December. This was compounded by the delay in opening the border of Western Australia.
"Just as domestic travel was returning to pre-pandemic levels, the Delta outbreak in July cut the majority of Australians off from each other for months," says group chief executive Alan Joyce.
"In those months, people came out in droves to get vaccinated – which meant lockdowns could end and international borders could open much earlier than expected. And then, just as demand was building again for the Christmas holidays, the Omicron variant emerged – putting another dent in consumer confidence. In all honesty, it's been a real rollercoaster."
Overall, ASKS rose 53% in the six months to 31 December, but were just 17.5% of ASKS recorded in the last six months of 2018, prior to the pandemic. RPKs rose 27.6% from a year earlier, but were just 10% of those recorded in the last six months of 2018.
The Group carried 5.4 million passengers in the second half, up from 4.9 million a year earlier, but well below 28.5 million in the last half of 2018.
Among specific segments, Qantas Domestic saw an earnings before interest and taxes (EBIT) loss of A$613 million, nearly double its EBIT loss from a year earlier. Qantas International narrowed its EBIT loss to A$238 million from A$279 a year earlier.
The low-cost Jetstar Group, meanwhile, saw EBIT losses widen to A$417 million, compared with an EBIT loss of A$323 million a year earlier.
At a group level, freight generated EBIT of A$920 million, up from A$613 million a year earlier.
"The Freight operations continued to provide a very valuable natural hedge to the performance of the international passenger operations, helping to largely offset the losses," says Qantas.
"As airlines globally responded to the pandemic by grounding and retiring aircraft, a shortage of international belly space emerged. Strong international freight yields combined with surging e-commerce demand and record Christmas volumes domestically drove a record EBITDA performance for Qantas Freight."
As of 31 December 2021, cash and cash equivalents stood at A$2.7 billion, up from A$2.2 billion on 30 June 2021.