Qatar Airways is to reinstate in full its remaining orders for 23 Airbus A350s as well as 50 A321neos which had been cancelled during its legal dispute with the airframer.
But while A350 deliveries are likely to resume this year, FlightGlobal understands, the A321neos will be pushed back to 2026.
Airbus had started cancelling individual A350-1000 deliveries when Qatar began refusing to take the remaining 23 aircraft in its backlog, having complained over the deterioration of skin-paint on other A350s in its fleet.
The Qatari civil aviation regulator had grounded several Qatar A350s over airworthiness concerns, which Airbus strongly disputed – triggering a legal case between the airline and the airframer which has just been resolved.
After cancelling four A350 deliveries to the carrier, Airbus opted simply to axe the remaining 19.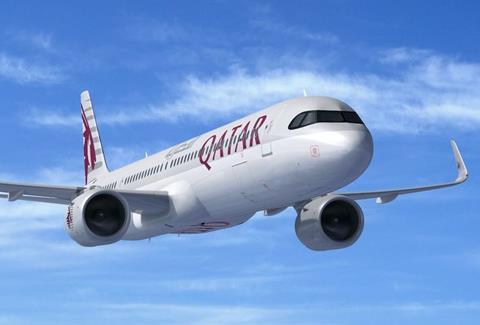 Airbus also took the step of separately cancelling Qatar's order for 50 A321neos – creating another branch to the legal row – as its relationship with the airline worsened.
The airframer had justified the A321neo cancellation by citing a cross-default clause which, it argued, enabled it to use Qatar's refusal of the A350s to terminate the A321neo deal.
At the time of the cancellation, the carrier would have taken its first A321neo in January this year.
While Qatar's production slots have been protected to a degree, the interruption to the carrier's order, single-aisle manufacturing capacity constraints, and the popularity of the A321neo – over 3,600 of the variant are backlogged – has resulted in less flexibility for reinstating the agreement.
Qatar Airways turned to the Boeing 737 Max 10 following the scrapping of its A321neo order, opting to take 25 firm and 25 optioned aircraft. Whether resolution of the Airbus spat will have an effect on the Max 10 agreement is unclear.