Qatar Airways ended 2020 by taking delivery of three Boeing 777 freighters, all departing the airframer's Seattle facility for Doha within about 30min of one another on 31 December.
The aircraft – registered A7-BFV, -BFW and -BFX – included the 200th of the type to be handed over to a customer. All 777Fs are powered by General Electric GE90 engines.
Qatar Airways, as a result, has 24 of the aircraft in its fleet. It received the twinjets as air freight links remain critical despite air transport's broader collapse in the wake of the pandemic.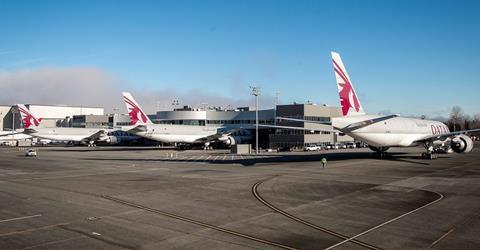 "We are injecting more capacity in the market which is very much required," says Qatar Airways Group chief Akbar Al Baker.
"With our investments in innovation and fleet, we are able to fulfil our customers' logistical requirements and facilitate the continuity of global trade."
The airline's freighter fleet – which also includes a pair of Boeing 747-8Fs – operates to more than 60 destinations from the Doha hub.
Boeing says customers have ordered a total of 242 777Fs since the programme was launched.