Israeli flag-carrier El Al is working to restore its operation to pre-crisis levels with the intention of shifting to profitability from the second half of 2023.
It has posted a $66.3 million net loss for the first quarter of 2022, a 23% improvement on the previous year's figure for the period.
Activity is recovering, the carrier states, with capacity at 53% of 2019's figure. The airline is operating 33 aircraft compared with the pre-crisis total of 43, and aims to re-introduce remaining aircraft by 2023.
El Al more than doubled its revenues to $282 million – although cargo revenues slipped by 2% – while operating expenses increased by 77% to $293 million.
The carrier attributes the rise in expenditure partly to a surge in jet fuel costs, up nearly $58 million, following the rise in prices and increased consumption.
But it also says it spent an extra $46 million on salaries owing to the workforce returning from furlough.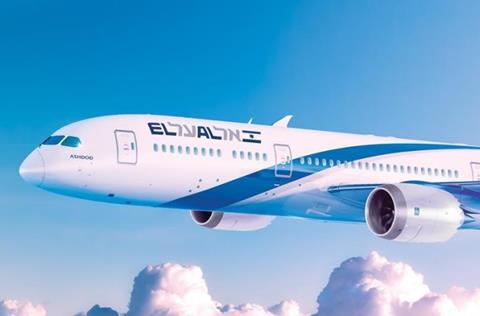 El Al's pre-tax loss amounted to $73.3 million for the three months to 31 March.
The carrier points out that, owing to operational limitations during the recovery, it is not expecting to realise full production potential this year.
It adds that – given the increase in fuel prices – a return to the sales volumes of 2019 "does not necessarily" indicate a return to profitable trends.
But the company says the quarter illustrates improvement in its main performance parameters, with increased bookings and load factor, higher fares and positive cash-flow. The cash balance at the end of April stood at $170 million.