Greek operator Aegean is expecting to introduce another nine Airbus A320neo-family jets this year, and take its fleet to 76 aircraft.
Aegean says the initial booking indications for the year are "particularly encouraging", with international traffic and summer sales trends exceeding pre-crisis levels.
Its network will cover 161 destinations with flights out of eight bases.
Aegean has 30 single-aisle aircraft – comprising 16 A321neos and 14 A320neos – on direct order with the airframer and is taking another 16 through lessors.
"Use of a higher number of [A320neo-family] aircraft will bring unit-cost savings in fuel per seat, partially mitigating the higher interest rates impact and high inflation across Europe," says the carrier in a full-year financial disclosure.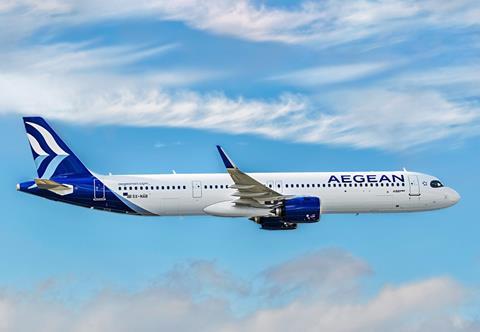 Aegean turned in a net profit of €107 million ($113 million) for 2022, after two years of losses, based on revenues of €1.34 billion.
It attributes the performance to a combination of "robust" demand for Greek travel, higher unit revenues, the fleet modernisation, and partial hedging which helped offset fuel prices.
Capacity last year was 10% down on the pre-crisis level, but the recovery meant this reduced to just 1% in the fourth quarter.
"The result validates the effectiveness of our strategy, despite the challenging start," says Aegean chief Dimitris Gerogiannis.
The carrier has fully repaid all loans drawn down from four Greek banks during the pandemic, three years ahead of maturity. Total cash remains above €500 million.
Aegean, however, will not be paying a dividend – for the fourth year in succession – because it wants to preserve cash to invest in a maintenance and simulation centre, and potentially buy out rights of the Greek state.