Australia's Regional Express is to lease two more Boeing 737-800s, taking its jet fleet to nine examples.
Rex says the two aircraft will arrive by end-July and mid-September, respectively. The first of the pair will begin commercial services in mid-August, operating daily flights between Melbourne and Hobart.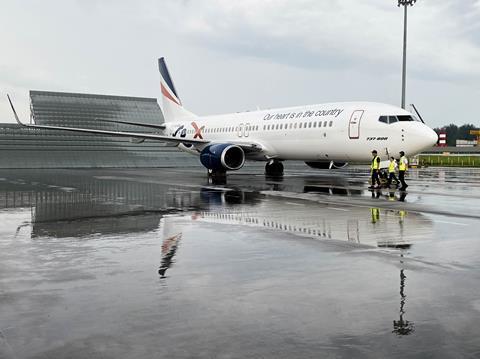 A photo supplied by Rex shows one of the new 737s to be undergoing checks in Singapore. The aircraft wears the registration 9V-MGA, indicating that it was a former Singapore Airlines airframe.
Airline deputy chairman John Sharp says the airline "may add" two more 737s before the end of the current financial year, which ends on 30 June 2024. The airline also hopes to expand its domestic jet network beyond the six cities it serves.
The fleet update comes more than a week after the airline made a surprise about-face in its earnings forecast, in which it now expects to post an annual loss after months of forecasting profits.
Rex blamed supply chain "shocks" as well as a decline in business travel demand for the reversal.
In his latest comments, Sharp makes no reference to the revised forecast, instead noting that the airline is growing steadily.
He says: "We believe it's best to grow in a measured way, ensuring capacity meets demand. But we also need to be flexible as aviation is a dynamic industry where the only constant is change."