Australia's Regional Express is on track to launch domestic jet operations on 1 March, having signed an agreement for A$150 million ($109 million) funding from PAG Asia Capital and scheduled a proving flight with authorities in early December.
"We will debut on the Sydney-Melbourne route with three aircraft on 1 March 2021 and will ramp up to five aircraft by Easter that will see flights to other capital cities [in Australia]," executive chairman Lim Kim Hai states in a disclosure to the Australian Securities Exchange today.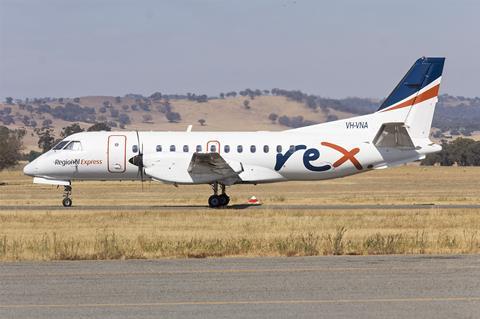 "Once the initial services are well established, we aim to progressively grow our fleet to cover all the major cities in Australia."
Lim states that Rex's preparations for domestic operations with its first Boeing 737-800NG aircraft that delivered on 5 November are "proceeding to plan".
"Our crew will carry out training on the aircraft over the next three weeks before the [Civil Aviation Safety Authority] proving flight on 2 December 2020. We anticipate CASA approval shortly after."
Lim adds that five other similar aircraft will be delivered between December and March.
In the same disclosure, Rex says it signed an agreement with PAG subsidiary, PAG Regulus Holdings for A$150 million funding that will exclusively support the launch of its domestic jet operations.
The funding comprises first-ranking senior secured convertible notes, in line with a previous update in September.
An initial A$50 million tranche will be drawn down towards early January, at which point PAG will be entitled to nominate two directors to Rex's board, including one to the board of Rex Airlines.
The remaining A$100 million will be available for drawdown over the following three years, in minimum tranches of A$5 million, provided Rex has utilised at least 75% of previously drawn funds.
With every drawdown, Rex will issue to PAG convertible notes at par, each with a face value of A$1.
The convertible notes have a conversion price of A$1.50 per share, subject to customary adjustments, and have a five-year term from the first drawdown set for early January. The notes will accrue 4% interest per annum but the rate goes up to 12% should an event of default occur and subsist.
PAG is required to hold the convertible notes for at least three years, unless specific conditions are met.
Rex estimates that based on its current issued share capital, PAG would hold approximately 23.3% of its total issued shares should the first A$50 million tranche be fully converted.
If Rex does not draw down the full A$150 million funding within the stipulated three-year period, PAG can still acquire additional equity in Rex via warrants issued for nil consideration, at an exercise price of A$1.50 per share that is subject to customary adjustments.