Australia's Regional Express (Rex) narrowed its half-year losses on the back of a significant jump in passenger revenue, though it notes that its regional operations were "a drag" on overall performance.
For the six months ended 31 December 2022, Rex reported a statutory loss after tax of A$16.5 million ($11.1 million), improving on A$36.7 million loss in the year-ago period.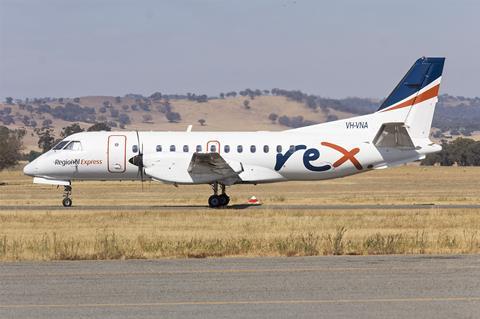 Total revenue more than doubled year on year to nearly A$340 million, led mainly by a four-fold rise in passenger revenue.
Rex says its domestic jet operations has been profitable since September 2022, with "consistent growth" reported since August. The airline first operating Boeing 737-800s on mainline domestic routes in 2021, but pandemic restrictions in Australia scuppered operations and Rex only fully resumed flights in February 2022.
The airline's jet operations made a pre-tax profit of A$4 million in December, up from November's A$2.8 million profit.
On the other hand, Rex blamed arch-rival Qantas for its poorer regional earnings: "Regional operations have been a drag on the group's performance due to Qantas' predatory behaviour in entering routes that are too small to support two operators".
The airline, which operates more than 60 Saab 340 turboprops, says its regional services have remained cash-flow positive for four months and will return to profitability in the January-March quarter this year.
Fuel costs saw the highest increase year on year, jumping almost five-fold to A$75 million, while other costs and expenses rose 84% to A$270 million. 
Rex adds that its half-year loss includes the negative impact of a mark-to-market valuation of its convertible note and warrant facility it entered in 2020 with investment group PAG.
The airline remains "cautiously optimistic" of a profitable 2023 financial year, which ends 30 June, noting that its passenger operations are on the up.