Romanian operator Blue Air has started taking delivery of Boeing 737 Max jets, with the first of a batch introduced from US lessor Air Lease.
Blue Air unveiled an order for six 737 Max 8s during the Paris air show in 2017 and, at the time, stated that it would take another 12 737s – six Max 8s and six -800s – from the lessor.
The agreement included options which would have potential taken the total number of aircraft acquired to 20.
But Air Lease says the initial Max 8 (YR-MXA) newly transferred to Blue Air is one of 10 destined for the carrier.
The remaining nine aircraft, powered by CFM International Leap-1B engines, will be delivered from April this year and through 2022.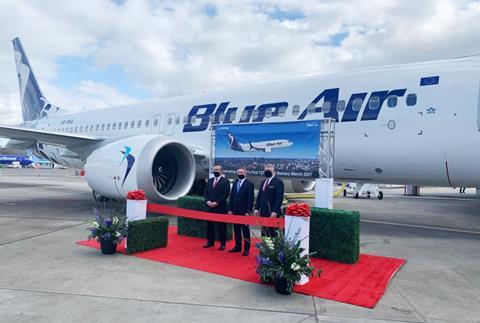 Blue Air has an all-737 fleet of around 20 aircraft comprising mainly -800s and a -700, plus a mix of older-variant -300 and -500 models.
Air Lease says it has provided six -800s and a -700 to the carrier.
"As we increasingly acknowledge the responsibility of the airline industry for a greener future, Blue Air joins the airline community as an active player in delivering the lowest carbon emissions known to date by a narrowbody passenger aircraft," says Blue Air majority shareholder Cristian Rada.
"Accelerated replacement of our 'Classic' fleet is ensured by the long-lasting strategic partnership with Air Lease as Blue Air's main lessor."
Rada adds that the Max deliveries will underpin the carrier's "resilience" and "secure" its position as the "main Romanian player" in passenger air transport.
Blue Air will have the largest fleet of new Max 8s in eastern Europe once deliveries are complete, says Air Lease executive chairman Steven Udvar-Hazy.