Aeroflot Group shifted another six Sukhoi Superjet 100s to Rossiya during March, bringing the number transferred to the airline to 14 over the first quarter.
Rossiya's fleet has increased from 67 to 81 aircraft over the three-month period as Aeroflot Group continued implementation of a strategy to use Rossiya as the platform for domestically-built types.
Internal traffic recovery within Russia meant Rossiya's domestic passenger numbers over the quarter rose by 37% against last year – although weak international recovery meant its overall figures were still down 10%.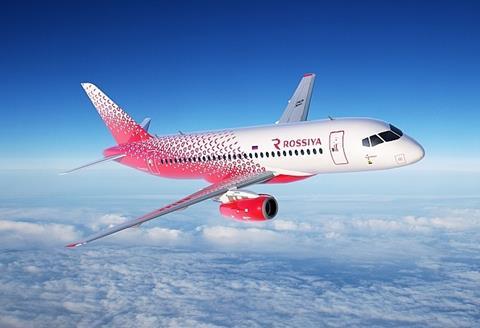 Budget airline Pobeda also benefited from the internal market improvement, recording a 10.5% increase in domestic passengers.
Aeroflot's mainline operation phased out two Airbus A330-200s and five A320s over the quarter, while introducing a single Boeing 777-300ER.
These changes, combined with transfer of the Superjets to Rossiya, reduced the Aeroflot fleet by 20 aircraft to 221.
Aeroflot's passenger numbers for the quarter were down by 53% compared with those in the first three months of 2020 – which had already fallen by 18% against 2019, as the effects of the pandemic began to set in. The airline's capacity for the period was only one-third of the level offered in the first quarter of 2019.