Royal Air Maroc has entered a codeshare agreement with Middle Eastern operator Emirates, intended to lift connections between Dubai and Casablanca.
The two carriers will commence the codeshare at the end of May.
Emirates will have access to 17 destinations in Morocco, other than Casablanca, along with 63 international cities – among them locations in northern, western and central Africa.
In turn, passengers booking through Royal Air Maroc, says the carrier, will be able to fly through the "vast network" of Emirates from Dubai.
This includes over 130 destinations including 60 cities in the Middle East, plus connections to the USA and Asia.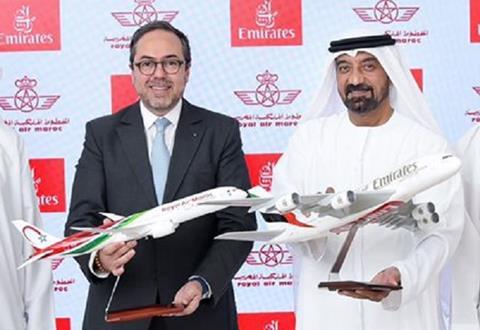 Emirates already flies eight-times weekly to Casablanca, and RAM is planning to open a four-times weekly service to Dubai.
RAM chief Hamid Addou says the tie-up will contribute "strongly" to reinforcing the carrier's traffic.
"[It] will offer our passengers a wide range of destinations as well as a better customer experience, thanks to optimised connections and end-to-end check-in," he adds.
The codeshare will cover a total of 209 destinations.
RAM is a member of the Oneworld airline alliance. Emirates is not allied to any of the three major carrier groups.