Royal Jordanian Airlines is negotiating a fleet modernisation which is focused on replacing and expanding the short- and medium-haul jets operated by the Middle Eastern carrier.
The airline outlined an expansion strategy during its annual general meeting on 18 April.
Royal Jordanian, which is trying to recover from the impact of the pandemic on its financial performance, states that it will operate 24 aircraft this year.
These include seven Boeing 787s, 12 Airbus A320-family aircraft, four Embraer regional jets and a single A310 freighter.
Its flight schedule of 362 weekly services, mainly within the Middle East, will also include 84 to Europe and 24 to North America.
But the airline says its five-year strategy, intended to overcome the pandemic's "significant" effect on the company, foresees expanding its network from 35 to 60 destinations.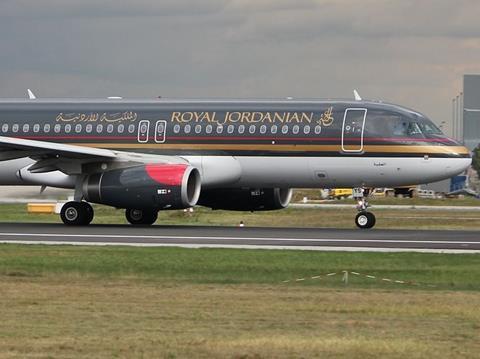 The airline will undertake a modernisation of its fleet, indicating that it will replace 17 older short- and medium-haul aircraft with new models, and add a further 13.
Royal Jordanian says it is involved in talks with Airbus, Boeing and Embraer on the modernisation plan.
Its A320s and A321s are around 10 years of age, but its A319s and Embraers are older – around 14-16 years.
The strategy not only aims to reduce operating costs but also increase service levels to passengers and promote tourism to Jordan.
Royal Jordanian also signals that air freight will become an important part of its business, either through carriage on passenger aircraft or dedicated freighters.