Royal Jordanian Airlines has named chairman Said Darwazeh as its interim chief executive, after previous head Stefan Pichler retired having spent over three years in the top post.
It has yet to appoint a permanent successor after the carrier's contract with Pichler ended on 30 September.
The airline credits him with increasing the company's operating profit substantially, to JD43.8 million ($61.8 million) last year, after he shaped and implemented an "ambitious" turnaround plan.
"We are proud about the significant progress our national carrier has achieved in the last three [pre-coronavirus] years," says Darwazeh.
Pichler took over the management of the carrier at the beginning of June 2017, the latest in a series of senior airline and travel leadership appointments which included Thomas Cook, Air Berlin, Kuwait's Jazeera Airways and Fiji Airways.
He says he was "truly honoured" to work for the Amman-based carrier and says he received "great support" from Darwazeh and the board.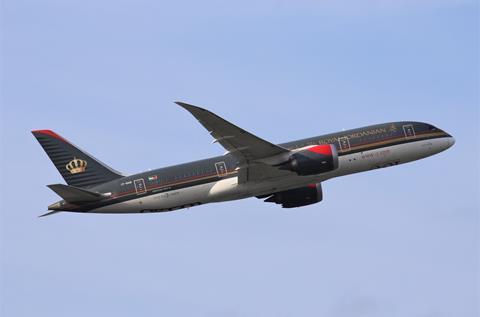 Pichler's eventual successor at Royal Jordanian will inherit an airline which – like many others – has had to take steps to shore up reserves, after the air transport crisis and sharp reduction in traffic wrecked the carrier's improving financial performance.
Suspension of all Jordanian passenger air services on 17 March "significantly affected" the company's gross revenues "to unprecedented levels", the airline states.
Its revenues from scheduled services fell by 60% in the first half of this year, and by 90% in the three months to 30 June. Flight cancellations to this date resulted refunds of JD26 million, although most of this was in the form of vouchers.
Royal Jordanian's net loss for the first half amounted to JD66.7 million including JD41.3 million for the second quarter alone.
The airline's auditor has warned that accumulated losses had reached more than JD152 million by 30 June, representing 55% of the company's capital, while its current liabilities exceeded its current assets by nearly JD107 million.
Under Jordanian corporate law, it says, if this level reaches 75% the company must be liquidated unless an agreement is reached to raise its capital or address the losses.
The airline says it has received assurance, through a "comfort letter", that the Jordanian government "intends to support the company's operations in the future".
Royal Jordanian says, in its half-year financial statement, that it has been holding talks on accelerating plans for a government injection of JD50 million, originally scheduled to take place over five years from January 2021. The airline is seeking to shorten this period to just two years, starting from the current year.
It has held talks with lessors and lenders to reschedule payments, cut employees' salaries by 20-40%, and agreed with lender Arab Bank in March to double the ceiling of a credit facility to JD40 million.
This article has been updated to confirm that Pichler is retiring from the airline