Ryanair is considering a potential delisting from the London stock exchange, following the UK's 'Brexit' withdrawal from the European Union.
The airline has a primary listing on the Euronext Dublin market and says its board is "considering the merits" of retaining its London listing.
"Migration away from the London stock exchange is consistent with a general trend for trading in shares of EU corporates post-Brexit," said the carrier, as it released first-half financial results on 1 November.
It points out that London exchange trading of its shares has "reduced materially" this year.
Ryanair has, for several years, prohibited non-EU citizens from purchasing its shares and this ban extended to the UK following Brexit – and this makes the migration issue "potentially more acute" for the airline.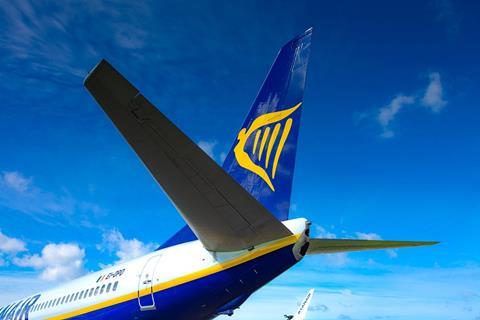 The carrier disclosed its thinking as it turned in a first-half loss of €48 million ($55 million), following a "rebound" in traffic in the second quarter, after a "very badly disrupted" first.
Ryanair Group transported 39.1 million passengers during the six-month period – generating revenues of €2.15 billion – and load factor increased to 79%.
Although Ryanair has experienced a surge in bookings in recent weeks, and expects this to continue into the Easter holiday and summer periods next year, chief executive Michael O'Leary says it faces a "challenging" winter period regarding pricing and yields.
"With the booking curve remaining very close-in, traffic recovery will require continuing price stimulation," he says.
"This, coupled with rising costs for the small unhedged balance of our fuel needs, means that visibility for the remainder of [the fiscal year 2021-22] is very limited."
O'Leary says providing "meaningful" guidance on the full-year performance is "difficult", but the company believes passenger numbers will recover to 100 million and the airline is forecasting a full-year loss of €100-200 million.
"This outturn will be crucially dependent on the continued roll-out of vaccines and no adverse Covid-19 developments," he adds.