Ryanair has opted to retain Airbus A320s operated by its Austrian division Lauda Europe, having been unable to reach agreement on a new Boeing 737 deal.
It will extend leases on "most" of the leases on Lauda A320s by up to four years – taking them to 2028.
Ryanair says this process is "close to completion" and will secure "material" rent savings and enhance operational efficiency while supporting growth.
Chief executive Michael O'Leary says the company has undertaken a review of lease opportunities for previous-generation 737s.
It adds that it has been unable to obtain "competitive pricing" from Boeing on a new aircraft order.
Ryanair had a group-wide fleet of 483 Boeing 737s and 29 A320s at the end of June. All the A320s are operated by Lauda.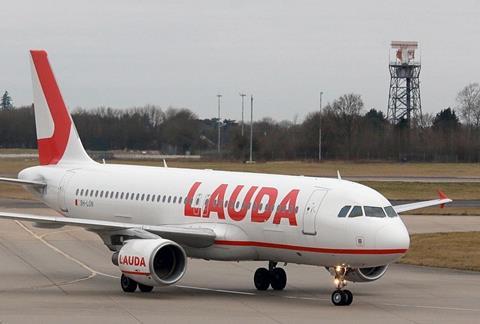 Ryanair has been engaged in a fleet modernisation which includes taking 210 of the high-density 737 Max 8-200.
The company has, so far, introduced 73 of the Max 8-200s.
Boeing is scheduled to deliver over 50 more to the carrier ahead of summer 2023, and O'Leary believes that restructuring undertaken by legacy operators to cope with the pandemic has created "enormous growth opportunities" for deploying the aircraft.
"We continue to recruit and train substantial numbers of pilots, cabin crew and engineers," says O'Leary, adding that the company will receive the first of eight new CAE full-flight simulators this summer.
Ryanair says the remaining Max 8-200 jets on its backlog will be delivered before the end of March 2025.