Ryanair Group is warning that it will close the Lauda Airbus A320 base at Vienna at the end of the month if there is no agreement on cost reductions.
It says the Lauda division "underperformed" during the fiscal year to 31 March 2020 as a result of competition from Lufthansa Group, of which Austrian Airlines is a part.
Ryanair Group has not given details of Lauda's financial result because it says the division does not exceed the quantitative thresholds for reporting.
But it says its costs are "running ahead" of other airlines in the group, and the management team is putting in place a restructuring plan.
This includes discussions with unions on personnel savings to secure the Vienna base's future.
Failure to agree "meaningful" cost reductions by 20 May, says Ryanair Group, will result in closure of the A320 base on 30 May, which will involve more than 300 job losses.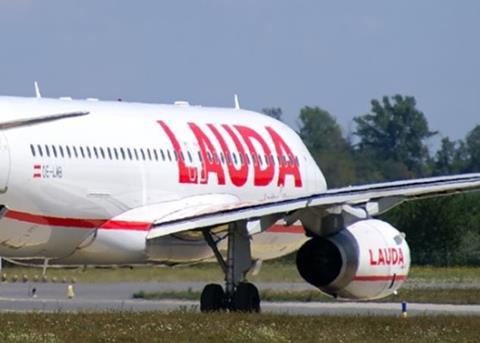 The airline had been serving over 80 destinations from Vienna, and a total of 60 from bases at Stuttgart, Dusseldorf and Palma de Mallorca.
But Lauda's fleet has been grounded since 17 March as a result of the coronavirus crisis and is having to "completely rethink" its strategy and cut back growth plans.
The airline has "abandoned" plans to operate a base in the Croatian city of Zadar for Ryanair, the company adds.
Former Ryanair chief commercial officer David O'Brien has joined the Austrian carrier as joint chief executive.
Ryanair Group had been intending to expand the Lauda fleet to 38 aircraft during summer 2020, up from the 27 it currently operates according to Cirium fleets data.