Ryanair has upgraded its full-year traffic forecast to 166.5 passengers, from 165 million, as it announced extra capacity on its UK services for the coming winter season.
The low-cost giant is adding 1 million seats to its operations across 20 UK airports for the late-October to late-March period, it said on 23 August.
That move comes after British Airways announced on 22 August that it was cutting around 10,000 short-haul flights from its UK schedules for the winter season – covering about 8% of its services, according to Cirium schedules data – as its seeks to minimise the risk of operational disruption spreading beyond the summer.
Cirium data shows that before the cuts, BA was due to operate 120,637 flights, or nearly 23.2 million seats, during the winter.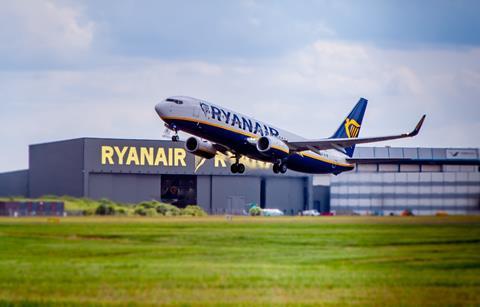 Citing BA's announcement and the capacity caps in place at Heathrow airport – from which the Irish carrier does not operate – Ryanair group chief executive Michael O'Leary says: "Ryanair is now adding more capacity to our largest ever UK winter schedule so that UK families can book with confidence that they will get to their low-fare city break and winter sun getaways without the risk of flight cancellations."
Speaking in late July, O'Leary claimed the company's efforts to minimise job losses over the last two years had been "vindicated", because the airline is "fully crewed" despite its higher operating capacity – arguing that this "seems unusual" among major European carriers.
Indeed, BA is one of many large airlines in Europe to have moderated its capacity in response to the operational challenges created by staffing shortages throughout the air travel chain.
Ryanair, however, has been hitting all-time traffic highs this year. In July it served 16.8 million passengers – some two million more than it recorded for the same month of 2019 and 0.9 million up on the previous record seen in June this year.
Reaching 166.5 million passengers for the year ending March 2023 would see Ryanair surpass its pre-Covid high of 149 million.
The budget carrier's biggest UK airport is Stansted, followed by Gatwick, Manchester, Birmingham, Bristol, Glasgow and Edinburgh.