Scandinavian operator SAS has stressed that it needs to relieve the financial pressure from its long-haul fleet, owing to limitations in its ability to operate to Asian destinations.
Chief executive Anko van der Werff, speaking during a second-quarter briefing, said the airline had "too many" widebody aircraft.
He says SAS had been "hoping potentially for a better summer" for its Asian network, the routes have effectively been "completely closed off" owing to the Ukrainian conflict and the inability to access Russian airspace.
"We cannot fly to Asia as we would have liked," he says, adding that there is "no certainty" as to when Russian airspace will re-open.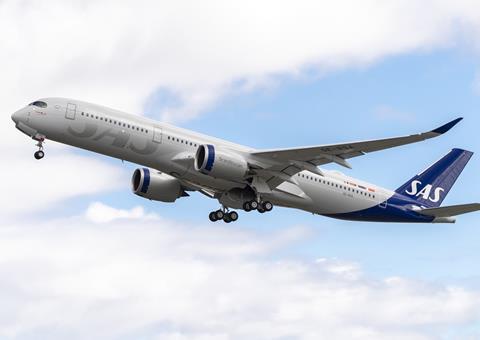 The Asian market also continues to be affected by the pandemic, van der Werff adds, increasing the complexity of the situation.
He says the carrier is holding "serious conversations" with lessors to obtain the "right restructured fleet – the number [of aircraft] and the price we pay for them".
SAS has 14 long-haul jets in operation, a mix of Airbus A350s and A330s. It has two more A350s due for delivery in fiscal year 2024.
Van der Werff says the 'SAS Forward' restructuring programme is "not a maybe, it's a must" and that reshaping the fleet – which includes looking towards smaller types to enable greater flexibility and a stronger regional presence – is a necessary part of the plan.
He says the airline is "focused on plan A", to achieve the much-needed restructuring outside of court, but that the company "may be forced" to go to court if it cannot obtain the vital agreements needed to implement the scheme.