Qatar Airways has begun redirecting flightpaths through Saudi Arabian airspace, after the lifting of a blockade imposed more than three years ago.
The airline's service to Johannesburg – flight QR1365, operated by an Airbus A350-900 – crossed into eastern Saudi airspace shortly after its departure during the evening of 7 January.
Qatar Airways' flights had been barred from the territory after a blockade – which also extended to the United Arab Emirates, Bahrain and Egypt – was put in place in June 2017.
This meant the carrier was forced to fly longer diversionary routes on its network, and also had to give up serving several destinations.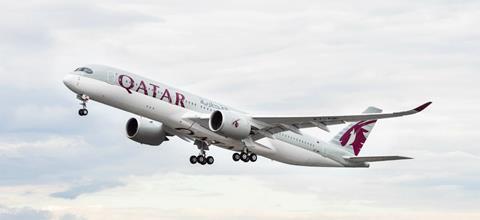 But the diplomatic row was finally resolved during the first week of 2021 with Qatari and Saudi officials meeting at a Gulf Co-operation Council summit in Al-Ula, and Saudi Arabian authorities allowing the airspace and border to be re-opened.
Saudi Arabia's foreign ministry says the summit "emphasised Gulf and Arab solidarity and stability", and stressed its appreciation for Kuwaiti government efforts to "heal the rift".
"We are in dire need to unite our efforts to advance our region and to confront the challenges that surround us – especially the threats posed by the Iranian regime's nuclear programme," the ministry adds.
Perceived Qatari-Iranian allegiance had been a trigger for the blockade, following heightened tension between Saudi Arabia and Iran.
Iranian authorities provided airspace access to Qatar Airways flights operating from Doha to destinations in Europe and Asia, to help circumvent the blockade.
IATA says the decision to re-open Saudi, UAE, Bahraini and Egyptian airspace to Qatari flights is "welcome news" for the Middle East region.
It states that the blockade had extended typical 1h journeys to more than 5h in some cases.
"The agreement paves the way for commercial airlines to resume regional connectivity, which will shorten flight times and provide essential air links to families and businesses," says the association's Middle East regional vice-president Muhammad Al Bakri.
IATA adds that the pact will support establishment of quarantine-free travel corridors and the shipping of vaccines.