Saudi Arabian flag-carrier Saudia's budget division Flyadeal is claiming to have operated the first all-female crewed flight by an airline of the kingdom.
Flyadeal says the crew – most of whom were Saudi citizens – operated the Airbus A320neo on the F3117 service between Riyadh and Jeddah.
The aircraft (HZ-FAV) took off from the capital on 19 May with two pilots and five cabin crew, including a Saudi first officer and three Saudi flight attendants.
Flyadeal says it has worked on a number of initiatives to empower women in the aviation sector with appointments to senior operational and leadership positions.
Its Riyadh-Jeddah flight is further evidence of Saudi Arabia's gradual social reforms, particularly under the Vision 2030 programme, in a country which has historically imposed restrictions on opportunities for women.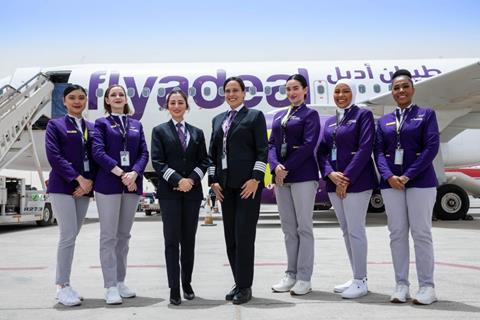 The first officer of the A320neo, Yara Jan, joined the carrier a year ago after graduating from a Florida flight school in 2019.
Speaking to the Riyadh-based publication Arab News, she said: "Although being a Saudi female pilot is new, it is not impossible for our generation – especially with the backing that we are receiving from our beloved country and our respected leaders.
"I will always be pleased to have the chance to make a positive change."
Flyadeal emerged five years ago when it opened domestic services in the kingdom with A320s. According to Airbus's latest fleet figures, the airline operates 11 A320s and 10 A320neos.