Scottish carrier Loganair is to modernise its fleet, phasing out Saab 340B turboprops in favour of additional ATRs.
It will introduce eight ATRs for next summer, while shedding its remaining eight 34-seat Saabs by July. The carrier says the Saabs will be replaced with 48-seat ATR 42s.
Loganair states that it has already signed initial agreements, disclosing that Irish-based lessor Abelo will join Falko and Nordic Aviation Capital as suppliers of aircraft to the carrier.
It already has 15 ATRs – a mix of eight ATR 72s and seven ATR 42s – and they include four of the 72-600 variant and four 72-500 freighters.
Loganair says the aircraft will bring "enhanced capacity" to both its passenger and cargo businesses.
The airline secured a five-year contract, which took effect earlier this year, to carry out postal services to Scottish islands and provide UK mail connections at night.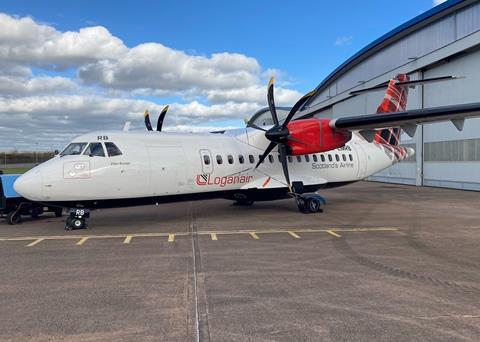 "In selecting our future fleet, it's important to have an aircraft which builds upon our environmental credentials while withstanding island weather conditions and providing accessibility for all customers in the communities we serve," says chief executive Jonathan Hinkles.
"We've found all those characteristics and more in the ATR turboprop."
Loganair says the Saab 340Bs are being sold under a $12 million agreement to be deployed by North American operators.
The aircraft will be "progressively" phased out over the course of the next eight months.
Loganair says that, following the modernisation, the ATR fleet will have an average age of eight years and it will become "one of the largest" operators of the type in Europe.
Preparations are underway at Glasgow to introduce the aircraft on routes to Islay, Benbecula, Sumburgh, Kirkwall, Derry and Stornoway in the first quarter of next year.
Loganair says the ATRs will offer a 27% reduction in per-seat carbon emissions compared with the Saab 340s.
The airline is aiming to offer "farewell flights" on the Saabs as part of their withdrawal.
Loganair's fleet of over 40 aircraft also includes Embraer ERJ-135 and ERJ-145 regional jets.