Singapore Airlines Group reported a drop in passenger load factor for July, even as it flew more passengers in the month and significantly grew capacity.
Load factor for the group's carriers — comprising mainline carrier SIA and low-cost arm Scoot — fell 5.3 percentage points year on year to a dismal 16.3%.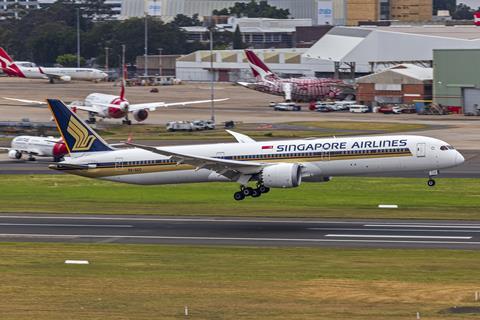 This was despite a four-fold increase in passenger numbers — to around 151,000 passengers — and capacity growing by nearly six times year on year.
Mainline operator SIA flew 128,800 passengers in July, a significant jump from the 29,300 passengers carried in the same month last year. Capacity, measured in ASKs, jumped more than five-fold year on year, while RPKs for the month quadrupled compared to 2020.
SIA's passenger load factor fell 5.1 percentage points, to just 17.6%, with the sharpest decline reported in the South West Pacific and East Asia regions.
As for Scoot, it flew 22,100 passengers in July, more than five times the number flown in 2020. The low-cost carrier reported an eight-fold rise in capacity, outpacing traffic growth, which saw a near-six-fold increase year on year.
Scoot's passenger load factor fell 4.2 percentage points to just 8.4%.
At the end of July, SIA operated flights to 53 cities, including recommencing flights to Kathmandu, Manchester and Cape Town. As for Scoot, its network covered 25 points, including reinstating operations to Sydney.
The group's cargo operations performed relatively better in the month — cargo load factor was up 2.6 percentage points to 87.2%, led by an uptick in load factors to the Americas and West Asia and Africa regions.
SIA Cargo carried 88,300t of freight in the month, reflecting an increase of nearly 59% year on year. Capacity for the month grew 53% year on year, while freight tonne kilometres grew 58%.