Singapore Airlines Group expects to operate at 61% its pre-pandemic capacity by May, as its carriers see a "significant increase" in traffic following the easing of travel restrictions.
In traffic results for March, the group – comprising SIA and low-cost unit Scoot – carried 893,000 passengers, an increase of nearly ninefold year on year. Against February's passenger numbers, the two carriers saw an increase of around 64%.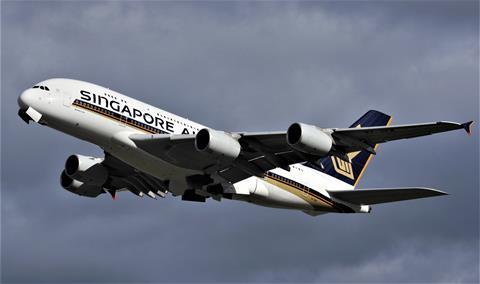 The sharp rise comes as Singapore in March lifted arrival caps, which had been imposed early in the year amid the rise of the Omicron variant of the coronavirus. SIA adds that key markets around the world had also eased restrictions during the month, which led to the increase in traffic.
Mainline carrier SIA carried around 764,000 passengers in the month, an increase of more than eight times compared to 2021, while Scoot saw a tenfold rise in passengers to 128,000.
Group capacity in March was 51% pre-pandemic levels, a month-on-month increase of seven percentage points. On a year-on-year basis, group capacity more than doubled.
SIA Group previously said it expects capacity in April to his 57% pre-pandemic levels, before rising to 61% by May, as restrictions ease.
It notes that Singapore's "long-awaited" decision to fully reopen borders "opens up the entire SIA and Scoot network to eligible customers" and could lead to further passenger traffic growth.
As for cargo, SIA Cargo saw cargo loads rise 17% year on year, as capacity grew 48% on the back of more passenger flights resuming.
"The growth in cargo loads was constrained by pandemic controls in China and Hong Kong, which limited exports from those markets. More bellyhold space was also allocated for carriage of passenger bags as passenger load factors improved," the group adds.