South Siberian operator Aeroservis has become the latest to sign for the new UZGA LMS-901 Baikal utility aircraft, with an agreement for seven.
Aeroservis will take delivery of the single-engined transports over the course of 2025-28.
The Chita-based company conducts a range of operations, including passenger transport to several regional destinations, including the city of Irkutsk.
Its fleet includes such types as the Let L-410 and Antonov An-2, as well as Mil Mi-8 helicopters.
General director German Bobrov says the LMS-901 – featuring the domestic Klimov VK-800SM turboprop engine – will be "in demand" for air transportation.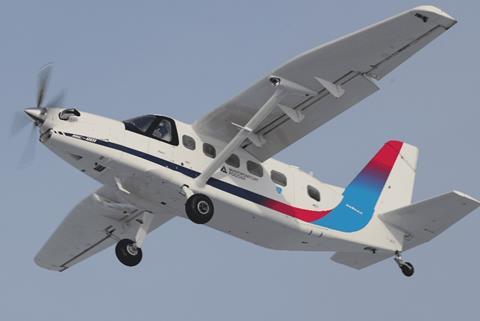 He says the aircraft will be a "good replacement" for single-engined models used by Aeroservis, but will also replace the twin-engined L-410 on certain routes.
The aircraft will be configured for both passenger and cargo services, adds Bobrov, following discussions with UZGA on customisation.
Under the agreement Aeroservis will receive training for flight and technical personnel, and maintenance support.
"We are sure that LMS-901 will allow the airline to efficiently carry out transportation of passengers and cargo in Transbaikalia and neighbouring regions," says UZGA civil aviation programme director Oleg Bogomolov.
He says UZGA has had a long-term partnership with Aeroservis and adds that the carrier is "one of the most experienced operators" of single-engined aircraft in Siberia.
Siberian carrier KrasAir also recently signed for a batch of LMS-901s.