Singapore Airlines Group recorded its highest-ever quarterly operating profit and revenue during the July-September period, despite passenger capacity and traffic still being significantly down on pre-Covid levels.
"Robust" demand for air travel drove the strong fiscal second quarter performance, the group said on 4 November, with encouraging forward passenger sales "across all cabin classes". It also highlights, however, "potential headwinds in 2023" from inflationary pressures and global economic uncertainties.
SIA Group's second-quarter operating profit of S$678 million ($480 million) compares with a loss of S$345 million in the same quarter of 2021 and a profit of S$213 million in 2019.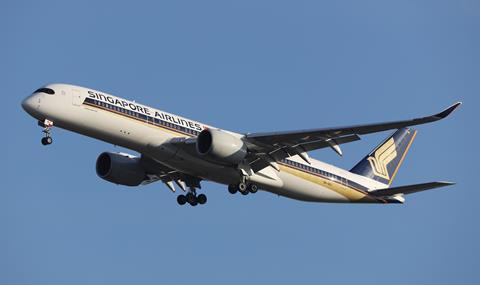 The group posted a net profit of S$557 million for the period, compared with a S$428 million loss in the same quarter last year.
Revenue came in at S$4.5 billion – three times higher year-on-year and up by around S$300 million from 2019 – despite the 6.3 million passengers carried during the quarter being down around a third from the 9.7 million carried in the same quarter of 2019.
Income was driven by a record-high revenue per available seat kilometre figure of 10.3 cents – plus a record load factor of 86.6% – which helped to offset the lower passenger throughput.
Also boosting revenue versus pre-Covid levels, cargo income exceeded S$1 billion for the fourth quarter in succession, although was within S$300,000 of dipping below that level. The group cites a decrease in cargo loads and yields as demand softens across global freight markets.
Expenditure of S$3.8 billion included higher fuel costs, although the group says that "the [quarter-on-quarter] increase in non-fuel expenditure was in line with the increase in passenger and cargo capacity".
On the outlook, SIA Group highlights the relaxation of border controls in markets such as Hong Kong, Japan and Taiwan as a positive development looking towards the year-end peak travel season.
"Forward sales are expected to remain buoyant in the coming months leading up to the Lunar New Year period," it says.
However, the group adds: "High fuel prices, inflationary pressures across the supply chain, geopolitical issues, as well as macroeconomic uncertainties including the risk of a global recession, remain a concern beyond the Lunar New Year period.
"These could pose challenges to passenger and cargo demand across the SIA Group's key markets."